The lockdown has changed so many aspects of daily life, and one of them has been an increasing reliance on local radio for the latest news and to keep us all in touch with our immediate community. In Surrey, Eagle Radio has risen to the challenge and that is shown by record audience figures since the start of the lockdown.
Peter Gordon (1 North 1985), who launched the station in 1996 and has been involved ever since as a presenter and programmer, as well as being Content Director, explained that while the number of listeners has grown significantly, Eagle is not really doing anything different.
"I'm not sure our role has changed, as such," he said. "We've built up a big community presence over the years – it's our business, that's what we do – but we have enhanced it As an already trusted local media outlet, it's important we get facts and information not only correct, but in a way that can be understood."
What has changed is the way the station is run. In a very short time almost the whole operation had to be moved so it could be run from people's homes. "The backroom staff went first," Gordon said. "Then over 10 days everyone else followed. The technology is fantastic. The fact is I can present and run a breakfast radio show from my dining room table, and that includes pressing all the buttons and moving the faders, There doesn't need to be anyone in the studio. We have a fantastic engineering support set up who were able to connect people up. It's actually like magic!"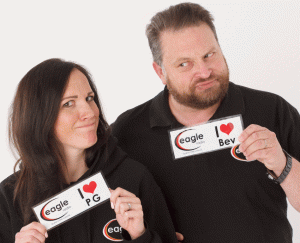 Will things go back to how they were or are some of these changes here to stay? "I think, in a media situation, there are times when having people in one place means it's easier to spark creative ideas etc. But I suspect there will continue to be the opportunity to continue some home working. I also think much will have been learnt on how to conduct promotional 'outside broadcasts' with better technology options now available."
Inevitably, as commercial station, the lockdown will impact on advertising. "As with all industries, we are affected. We are doing as best we can to help local businesses advertise by offering half price campaigns whilst we are part of a bigger group now who are looking after us. And we had some advertisers come back on with more appropriate messaging which has worked well and contributed to the general community feel of the station. But local stations who don't have a secure ownership will certainly suffer going forward."
Commercial radio has changed significantly in recent years, with many so-called local stations now run centrally and only given a local skin. "Local radio has been undergoing a transformation for some time. Many commercial local licenses across the UK have been networked up to provide a new model, which means some local/regional advertising but with much more centralised broadcasting.
"But I think radio in itself has had a huge boost. Whether the localness aspect of that is recognised going forward will be interesting to see. That localness, and the need for it, can be delivered in different ways, of course. In commercial radio it will always be about making the business work first. And with the challenging economic times ahead, there will need to be a clever balance."
Eagle, however, remains a genuine community station and Gordon feels that the current crisis may even lead to a more general re-think. "Interestingly, the power and community spirit of those local stations still based and broadcasting to their own area may yet be recognised and may give those planning changes a reason to pause for thought. Only time will tell….