More than 200 Old Cranleighans, former staff and parents were present for the opening of the van Hasselt Centre, the new humanities block named after former headmaster Marc van Hasselt (MCR 1970-1984).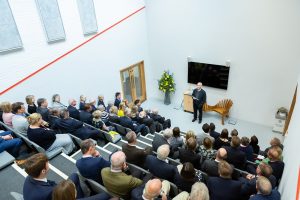 The afternoon started with the opening of the Leggitt Library, named after Paul Leggitt (MCR 1993-2017), by OC poet James Harpur (2 North 1975). That was followed by the opening of the Centre itself. Distinguished journalist Katie Adie made an excellent speech on Global Citizenship and she was followed by Martin Reader who then introduced Tessa van Hasselt, Marc's widow, who unveiled the plaque formally opening the block.
The guests were then entertained to drinks and bowl food in the Emms Centre.
The vHC, as it is known, includes both new classrooms and social spaces centred around the 1979 squash courts, which have been retained, and has been in use since the beginning of the Lent Term.